Areas like Byculla, Madanpura, Agripada, Nagpada, Dockyard Road, Ray Road, Chichpokli come under the E-ward of the Brihanmumbai Municipal Corporation (BMC). At present there are seven corporators in E-ward.
However, after the new ward structure of the BMC in 2022, there will be eight corporators in this ward. The E Ward is spread over an area of 7.4 sq.km. The total population of this ward is nearly 3,93,286.
Geographical Information
The eastern border extends to Arabian Sea, Ri Road and the eest border up to Sane Guruji Road, Western Railway, Jahangir Boman Behram Road, Shuklaji Street. The north border on the other hand, extends up to Dattaram Lad Road and the south border is up to Ramchandra Bhatt Road, Wadibandar, Maulana Shaukat Extends to Ali Road.
Office Location
10, Sheikh Hafizuddin Road, Byculla (West), Mumbai – 400008
Current Corporators
| Ward Number | Corporator | Political Party |
| --- | --- | --- |
| 207 | सुरेखा रोहिदास लोखंडे | BJP |
| 208 | रमाकांत सखाराम रहते | Shiv Sena |
| 209 | यशवंत जाधव | Shiv Sena |
| 210 | सोनम मनोज जमसुतकर | Congress |
| 211 | रईस कसम शेख | Samajwadi Party |
| 212  | गीता अजय गवली  | Akhil Bharatiya Sena |
| 213 | जावेद जुनेजा | Congress |
Here's a look at some landmarks in the new ward structure:
Ward No. 215 (Kalachowki Post Office, Mukta Cinema, Nirmal Park, Byculla Station, Bharat Hotel and surrounding areas)
Ward No. 216 (Chintamani Ganesh Temple, Rani Bagh Cha Raja, Byculla Garden, Sairaj Hospital and surrounding areas)
Ward No. 217 (Sagar Medical, Delhi Wali Masjid, Mazgaon Garden, Mankeshwar Temple and surrounding areas)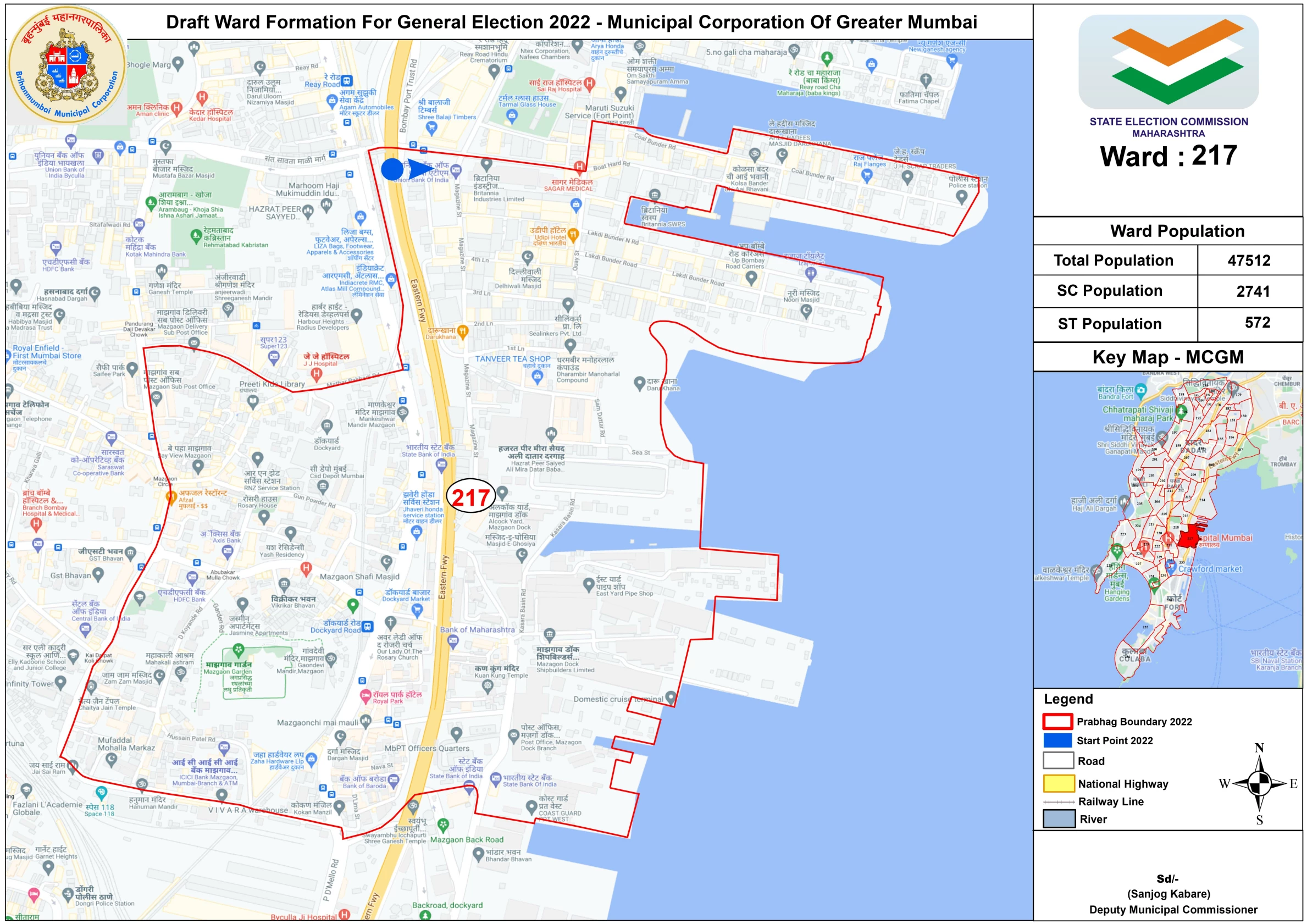 Ward No. 218 (Veermata Jijabai Bhosle Udyan, Balaji Hospital, Masina Hospital, Prince Ali Hospital, GST Bhavan, Mahapoora Bungalow and surrounding areas)
Ward No. 219 (Yes Bank, Raheja Tower, Classic Tower, Nair Hospital, Maratha Temple, Jagjivan Ram Hospital and surrounding areas)
Ward No.220 (Jhula Maidan, Hotel Sahil, Hotel Bombay, Mumbai Fire Brigade Head Office and surrounding areas)
Ward No. 221 (Byculla Bridge, Byculla Jail, Nagpada Police Hospital, Dongri Police Station and surrounding areas)
Ward No. 222 (Kamathipura Beat Police Station, Hakim Garden, Ahmed High School, Hotel Sagar and Nearby Areas)
Also Read: Know Your Ward! C Ward (Bhuleshwar, Netaji Subhash Marg (Part), Mumbadevi, Lohar Chawl)